Toras Avigdor:


a Powerful Force
for Change
He was a visionary.
A truth-seeker.
A scholar.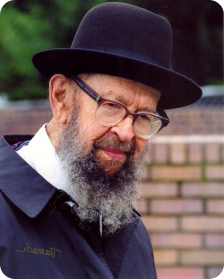 Rabbi Avigdor Miller was a towering figure among American Jews, a true gadol with an unrivaled understanding of Torah. His formative years in Baltimore and his years spent in Slabodka—immersed in Torah and mussar—shaped him into a fearless leader, helping him guide his kehillah through times of challenge and change, inspiring them to reach new heights in their spiritual growth.
Yet he never lost touch with the realities of the modern world. His brilliant mind and unwavering loyalty to Hashem made him a respected and beloved leader, in his shul and beyond, drawing countless individuals close to the Torah. As the rabbi of Bais Yisroel of Flatbush, he transformed the community—with a heart full of love and a fierce commitment to his ideals.
It is marvelous how many are the opportunities to achieve greatness in this life
He looked at the ordinary and saw layers of meaning. He probed beneath the surface and saw purpose and significance. Every ordinary object held the key to worlds of possibility and potential.
the skin of the apple is superior to the most cunning man-made packaging. The fruit skin contains oil which renders it waterproof, and it is not affected by heavy rains during the months of growth and ripening. But in addition, this oil possesses the characteristic aroma which renders the fruit more desirable. But the fruit skin has additional functions, for by its color it indicates the state of ripeness… The color also has the important function of making the fruit attractive, to arouse the appetite of the beholder.
The Spark that Set Off a Wildfire
During Rabbi Miller's lifetime, his students flocked to hear him speak, eager to learn from his wisdom and insight. And after his passing, his teachings continue to inspire and guide the Jewish world through countless recorded shiurim.
Rabbi Miller lives on.
For years, Rabbi Amichai Markowitz listened to these recordings, finding himself unfailingly uplifted and enthralled by Rabbi Miller's timeless wisdom, notably the Q&A sessions, in which Rabbi Miller answered every off-the-cuff question with his usual calm and focus, as if he had prepared beforehand.
One day, after hearing a Q&A that particularly resonated, Rabbi Markowitz transcribed it for himself for later review, and on a whim, emailed it to a few friends.
The feedback came fast—they wanted more.
Toras Avigdor was born.
Learning what's truly important in life and how to focus our thoughts is 100 percent to the credit of Toras Avigdor!
MEET OUR TEAM
Rav Yaakov Yehoshua Hamburger
Rabbinic Oversight
A talmid muvhak of Rav Miller, as well as his biographer and the author of the two-volume Shaarei Orah based on the Rav's private vaadim, Rabbi Hamburger has been a trusted confidant of Toras Avigdor from early on. Of all the Rav's talmidim, he was chosen by the Rav's family to review and arrange the manuscripts of the Rav for print.
Rabbi Hamburger graciously reviews and comments on each parshah booklet, ensuring we remain true to the Rav's ideas as we piece together selections from various tapes.
Rabbi Moshe Horowitz
Director
A son of the Bostoner Rebbe of Boro Park – a talmid of Rav Miller, Rabbi Horowitz was raised on Rabbi Miller Torah. When he heard of a job opening in Toras Avigdor he was excited to apply and put his talents to use in spreading the Torah of Rav Miller. Since joining Toras Avigdor, Rabbi Horowitz was able to transform the small local operation into the global entity it is today!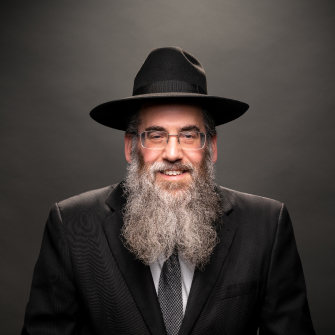 Rabbi Amichai Markowitz
Author
Eretz Yisrael-born, Rabbi Markowitz spent his childhood in Brooklyn, NY, where he met his rebbe for life, Rabbi Miller. After years listening to Rabbi Miller's shiurim in person and on tape, he opened a Rav Avigdor Miller tape gemach to share his treasures. He currently spends his days typing, collating, arranging, and reworking Rabbi Miller's shiurim to prepare the weekly Toras Avigdor pamphlet. At night he prepares the daily Q&A email ready to send out early each morning.
Rabbi Pinchas Wolhendler
Editor
Rabbi Wolhendler is the director of the Kinyan Horaah Rabbinic training program and is a popular Torah teacher in Boro Park. In 2015, after opening a Rabbi Miller Book Library, he was added to the fledgling Toras Avigdor email list.
Rabbi Wolhendler conceived of the current format of the parshah booklet and helps plan and edit the booklets each week. He is also the author of the Tanna D'vei Avigdor series on Shas, based on Rabbi Miller's Gemara shiurim. Toras Avigdor's exponential growth may be credited to his ability to "think big" and his drive to spread the Rav's Torah.
Rabbi Aharon Spetner
Author, Junior Edition
Rabbi Spetner grew up in St. Louis, Missouri, and now lives in Beitar Illit, where he learns and is the chief technology officer of BenManage, a US employee benefits company.
Several years ago, he arranged the translation of Toras Avigdor Junior into Hebrew. In an effort to have the stories ready in time for the translator, he offered to write a few Junior stories for us so we could get ahead of schedule. He never stopped writing, and has been the author of Toras Avigdor Junior ever since.
Mrs. Faigy Schwimmer
Proofreader
Mrs. Faigy Schwimmer was introduced to the "life-changing" teachings of R'Avigdor Miller zt'1 as a young mother and it transformed her life.
Ever since, she has been passionate about teaching it to her children, grandchildren, students, and anyone who wants to listen! Inspired by Rav Miller's oft-repeated instruction to pursue and seek to partake in great achievments, she reached out to the Tors Avigdor team volunteering to help edit the magnificent weekly parshah booklets that are read around the globe!
Rabbi Pesach Horowitz
Associate Director
While aimlessly searching the Yeshiva library one Shabbos afternoon for something to read, Rav Miller's "Rejoice O Youth" jumped into his hands & changed young Pesach's life forever… Many years later he picked up a copy of Toras Avigdor for the first time & knew he had to get involved.
Reb Pesach, who is a mechanech & business-owner in Far Rockaway NY; devotes much of his time to managing the Toras Avigdor website, app, emails & subscriptions.
Countries across the globe
"Now I am talking to Hashem, thanking Him, looking for the chessed in everyday life and living with bitachon when I have setbacks."
"As a teenager growing up in a small frum Jewish community in the Midwest, Rabbi Miller was pivotal to my spiritual development. I read all his books. I loved his straight-shooting non-politically correct ways of saying things. No one else in my surroundings was addressing the issues of wider society confronting me in those days. And now, Rabbi Miller is inspiring me once again. Now I am talking to Hashem, thanking Him, looking for the chessed in everyday life and living with bitachon when I have setbacks. It truly isn't hard; you just have to know what to do, and Rabbi Miller explains how in an easy-to-understand way. Every week I wait for the parshah booklet so I have my inspiration for Shabbos and plans to implement during the next week!"
Get free content from Toras Avigdor.